9 Days / 8 Nights
Nairobi, Samburu, Sweetwaters, Lake Nakuru and Maasai Mara
DAY 01: ARRIVAL – NAIROBI
Upon your arrival at The Jomo Kenyatta international Airport, you will be met by our representative for a warm welcome and a short briefing. You will then be transferred to Hilton Hotel.
Overnight at Hilton Nairobi.
DAY 02: NAIROBI – SAMBURU NATIONAL RESERVE
After breakfast and a short briefing, you will then depart north via Nanyuki and Mt Kenya for the Samburu Game Reserve set in the rugged semi-arid northern region with spectacular scenic landscape.
Arrival in time for lunch at Ashnil Samburu Camp, short siesta then head for an afternoon game viewing drive.

The water of the great Ewaso Nyiro River, dotted with doum palms meanders through the reserve giving it an oasis setting and draws wildlife in great numbers to its banks. The verdant riverine forest is a stark contrast to the arid thorn studded plains. Samburu is visited by large herds of Elephants, drawn by the promise of water. In the dry season, the elephants use their tusks to dig deep into the dry river beds, unearthing precious water. These waterholes then become a focal point for other game. The Samburu region is the best place to find several endemic Northern species; including the Gerenuk (twiga gazelle) due to her long neck, the Beisa Oryx, the Reticulated Giraffe, the Somali ostrich and Gravy's Zebra. Samburu is also an ornithological paradise, home to many birds including local species such as the Palm Nut Vulture and the Vinaceous Dove. Leopards are often seen at dusk. The Samburu culture is a truly fascinating one, sharing a great deal of ancestral and linguistic ties to the Maasai. The entire Samburu region is a place of breathtaking and magical beauty, a place where the vision of a deep red sunset silhouetting the doum palms along the river as a leopard emerges to hunt brings the perfect end to a day on safari.
Dinner and overnight at Ashnil Samburu Camp.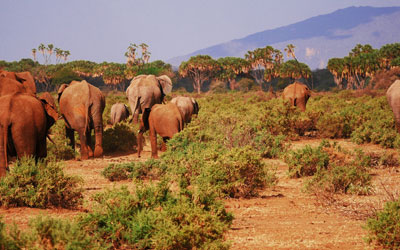 DAY 03: SAMBURU NATIONAL RESERVE
After an early breakfast at Ashnil Samburu Camp, enjoy a full day of game viewing drives in both Buffalo Springs and the nearby Samburu Game Reserves. The verdant riverine forest along the Ewaso Nyiro River is a stark contrast to the arid thorn studded plains. Packs of African Hunting Dogs are some of the animals you may see during your game viewing. Our driver guide will carefully select an amazing picnic site with a great scenic view where you will take your picnic lunches before venturing into the bush once again! Be on the look-out for the 'special five of Samburu', other wildlife and a large number of bird species.
Return to Ashnil Samburu Camp for dinner and overnight.
DAY 04: SAMBURU – SWEETWATERS GAME SANCTUARY
Breakfast at the Camp.
Morning drive to Sweetwaters game sanctuary.
Lunch at Sweetwaters Serena Camp.
Afternoon gamedrive in this unique game sanctuary. You will have a chance to visit the only Chimpanzee sanctuary in Kenya situated inside the sanctuary.
Dinner and overnight at Sweetwaters Serena camp.
DAY 05: SWEETWATERS – LAKE NAKURU NATIONAL PARK
After breakfast, you will check out and drive to Lake Nakuru National Park. This drive will take you through the famous Thompson Falls and equator where you can stop for photography.
Arrive at Lake Nakuru National park for check-in at Sarova Lionhill Lodge and straight to the restaurant for lunch. Afternoon game viewing drive in the park.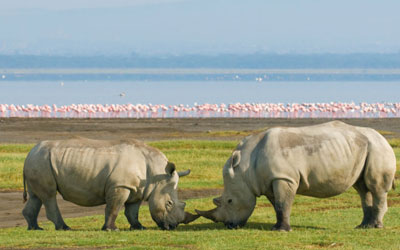 Lake Nakuru is a shallow, alkaline lake, where flamingos flock to. This lake offers one of the world's most spectacular wildlife sights – that of brilliant pink flamingos as far as the eye can see. When conditions are right, between one and two million lesser and greater flamingos feed around the shores of the shallow soda lake, together with tens of thousands of other birds. What is certain is that any visitor to Lake Nakuru is likely to encounter flocks large enough to induce absolute awe. Over four hundred species of birds have been sighted at the park and it goes without saying that this is a bird watchers paradise.
Dinner and overnight at Sarova Lionhill Lodge.
DAY 06: LAKE NAKURU – MASAI MARA GAME RESERVE
After early breakfast at Sarova Lionhill lodge, you will be driven to Masai Mara, the most famous game
Reserve in Kenya. Arrive at Keekorok Lodge to a warm welcome, a cold towel and enjoy a welcome drink as
you check in and given your room keys. The Lodge porters will show you to your rooms and assist you with
your luggage. Buffet lunch will be served at the Restaurant. After lunch you will have time to relax.
Proceed for your first game drive in this world famous game reserve, known for its many species of wildlife.
Dinner and Overnight at Keekorok Lodge.
DAY 07: MASAI MARA GAME RESERVE
Full day in Maasai Mara with morning and afternoon gamedrives.
All meals at Keekorok Lodge.
Widely considered to be Africa's greatest wildlife reserve and the jewel in Africa's crown, Maasai Mara is
Home to a spectacular array of wildlife. The open savannah, woodlands and tree-lined rivers create an eco-
system that supports huge numbers of bird and mammal species. The western border of the park is the
spectacular Siria escarpment, dotted with acacia trees, creating scenery of stunning beauty. Lions are found
in abundance throughout the park, as well as Elephant, Giraffe, Zebra, and a variety of Gazelle species.
Cheetahs are regularly seen and, with luck, you may also find Rhino and the elusive Leopard.
Overnight at Keekorok Lodge.
DAY 08: MASAI MARA – LAKE NAIVASHA
After breakfast drive to Lake Naivasha.
Arrive for lunch at Lake Naivasha Sopa Resort.
Afternoon at leisure for optional activities at the shores of Lake Naivasha.
Dinner and overnight at Lake Naivasha Sopa Resort.
DAY 09: LAKE NAIVASHA – NAIROBI – DEPART
After breakfast drive to Nairobi. Arrive for lunch at the Carnivore Restaurant.
Depending on your flight time, you will be transferred to the Airport for your home-bound flight.
High season – (Jan. – March, July – December)
Low season – (April – June)
Please Note:
Kenya Tour Package itinerary could be subject to change.
Consultation charges applicable for customisation (adjustable against final package payment).